We're pleased to announce that VAST Data's Universal StorageUniversal Storage is a single storage system that is fast enough for primary storage, scalable enough for huge datasets and affordable enough to use for the full range of a customers data, thus eliminating the tyranny of tiers. has been recognized as the best storage array of 2019 by SearchStorage. The SearchStorage annual awards provide the leading rankings of what's impactful today across the storage, cloud and data protection landscape. We're honored to take this year's top spot for storage arrays, and feel humbled to be in the company of giants who have won the same award before us. This gives us a chance to reflect on our value thesis relative to the broader market's priorities.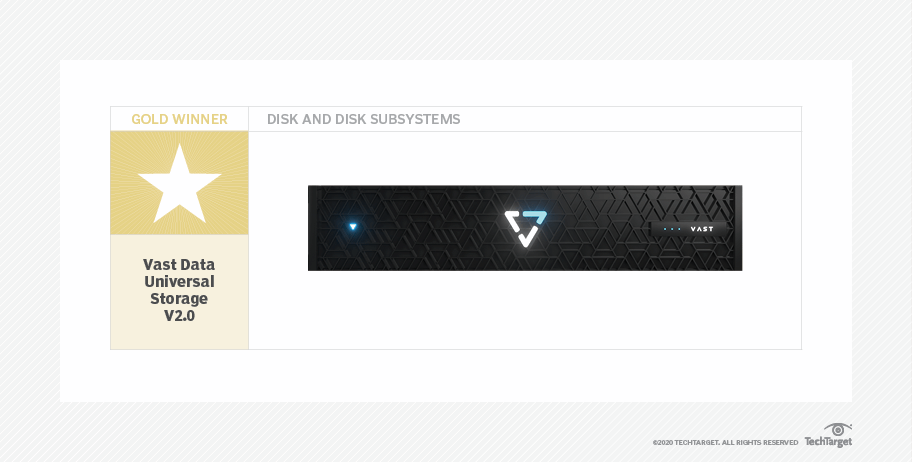 Looking at the five dimensions by which SearchStorage judges various products, let's consider the market through VAST's lens:
Performance: When you can finally afford to deploy all of your data on flash infrastructure, you stop worrying about tuning infrastructure and peak performance because absolute performance is naturally better. Further, VAST's disaggregated infrastructure makes it possible to scale metadata and data services in a completely linear fashion by eliminating east-west traffic within a NVMe-oF

NVMe-oF (Non Volatile Memory express over Fabrics) extends the NVMe protocol to allow systems to access NVMe SSDs over fabric networks like Ethernet and/or Infiniband as well as PCIe connections.

based cluster – making it easy to scale performance linearly.
Ease of integration into environment: Here, we think about the problem of ease-of-integration twofold:

First, from a packaging perspective, we provide HW appliance options that combine new technologies (QLCA class of SSDs designed to deliver the capacity and reliability required by hyperscale storage systems without the additional cost of the "enterprise" features required by legacy storage architectures. Hyperscale SSDs: • Use high bit/cell flash (4 bit/cell QLC and/or 5 bit/cell PLC)
• H... flash, Storage Class Memory

Storage Class Memory is a new non-volatile memory technology that has much lower latency and much higher endurance than NAND Flash. VAST Universal Storage Systems use Storage Class Memory SSDs to store system and element store metadata as well as as a write buffer.

, NVMe-oF) to customers who want to take the guesswork out of storage integration and deployment. This is not our solution for all customers, but for those who want to deploy quickly, we can have a system online and meeting benchmarks within 2 hours of racking and cabling the system.
Second, we routinely make the decision to keep the data access experience as simple as possible – which is why we chose to support standard NAS and object protocols as opposed to making a NVMe-oF or parallel file system appliance. Our objective is for storage to talk to applications in the manner they are most accustomed to — and we've extracted fast-enough performance from standard OS clients to help customers avoid complex host-side SW or complex tuning efforts

Ease of use and manageability: Ease of use and stability are priority #1 for VAST. With this focus, we've now had many customers come back within our first year for repeat purchases and we're now replacing products that are more than 10-years old with a solution that's easy to deploy, manage and scale. Moreover, our cloud-call home facility is the basis for the world's best customer support organization. In the words of one of our happy customers "Many vendors talk about how their products are hands free, but VAST's telemetry and support team make it actually possible to not worry about storage." To effectively compete with public cloud services, our goal is to make storage that's simple for people who want to build hands-free infrastructure on-premises.
Functionality: The VAST R&D team is moving at an unprecedented clip. We've recently sought some perspective on our timeline in relation to the rest of the industry and what we've realized is that not only are we moving exceptionally fast (3 years faster in development time vs. our next-closest peer), but we are also inventing. We're not just bolting onto legacy concepts. We're challenging notions on resilience, data reduction, and current protocols, while using  brute force to think about all new ways of developing storage infrastructure and also ensuring quick time-to-market. To our knowledge – this level of development speed and true invention has never before been combined in such a way and we're so proud to watch our team progress and innovate.
Value: This one, in many ways, speaks for itself. We provide:

Radical flash economics that make it possible to store all of your data in flash, and accelerate all of your applications
A platform that provides exabyte-scale and application-level QOS so you can start to consolidate all of your application data onto one Universal Storage platform
A system that features a 10 year deployment lifespan making it possible to amortize your investment more like a tape library than like a traditional enterprise flash or HDD storage system
True linear scalability to handle radically higher levels of access concurrency and to accelerate once-bottlenecked applications
The first act of VAST is not nearly done, but it's nice to take home the award trophy nonetheless 🙂  Today's award announcement confirms that we're headed down the right path… Looking forward, the VAST Data R&D team still has a lot of gas in the tank, and we'll be taking the product and our customers to new heights in 2020 and beyond.